Interpreting A Catalog Page
Learning to decipher what is on, or more importantly, what is not on a catalog page is something you should familiarize yourself with before you venture off to make that first purchase at public auction.

A catalog page is a version of a horse's pedigree that has been edited down to fit on the limited space of a sales catalog. It is essentially an advertisement for that particular horse – thus the positives in the pedigree have been emphasized and the negatives edited out. Click Here for a printable version of a sample catalog page used to illustrate this article.

Catalog Page Focuses on Female Side of the Family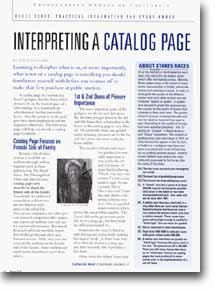 Because a lot of information is available on stallions through stallions registers such as those published by The Blood-Horse, and on line data services, catalog pages only describe in-depth the female side of the family. You should do additional research on stallions you are not familiar with prior to the sale. The data service companies and other private research companies offer numerous reports on stallions (see side bar for contact information) Bloodstock Research offers an excellent report free of charge through their web site if you have an account with them. Make sure you also research the stallions on the female side of the family. Some stallions are much better broodmare sires* than others.
Click here for the marked up catalog page that accompanied this story.
This article, written by Gayle Van Leer, originally appeared in the October 1997 Owners' Circle Published by The Thoroughbred Owners of California. It has been updated for use on this web site.

1st and 2nd Dams of Most Importance
The most important parts of the pedigree are the 1st and 2nd dams. By the time you get down to the 3rd and 4th dams, their relationship to the horse on the catalog page is very diluted. Of course the closer any graded stakes-winning ancestors are to the 1st dam and 2nd dam, the more costly the horse will be.
The number of foals each mare has produced is especially important to note under the 1st and 2nd dams. A mare listed as having "9 foals, 3 to race, two winners" should run up red flags as it denotes either horses with no talent or unsoundness. In our example page, EMMA'S GOLD has produced 7 foals but only 5 offspring are shown on the catalog page. One foal is a graded stakes-winner, two are stakes placed winners, and one is a winner. That would be considered a very good record from 6 foals of racing age. The "6th" foal is likely to be a 2-yr-old and can be given some grace due to its young age. This is the kind of produce record you would like to see when purchasing a young unraced horse. What this shows is that this mare has had successful foals in the past that made it to the races. Your odds of having a successful and sound racehorse will be better than if you bought a foal out of a mare such as the one described above.
Sometimes an older mare is listed as only having had one or two foals, making her appear weak. A closer look may show that she died at a young age, thus only had a chance to produce a few foals.
Often times the subject horse may be the first or second foal of a young mare, thus there are no other foals out of the mare racing. You will have to rely more on what the rest of the family has accomplished, or if the mare herself was a decent racehorse, when determining the possible quality of the foal. On the other side of the scale, some people have a bias against buying foals from older mares, even though their earlier foals were runners. They believe in the theory that mares do not produce as strong of a foal later in life. Another item people have strong feelings for one way or the other is whether the mare raced herself. If she was unraced, see if you can find out why. Was she injured or did she just not show much ability? Don't hesitate to ask the consignor these questions.

What's Not Shown on the Page is Important to Find Out
A very telling item that is never shown on catalog pages is how many starts each horse made. The number of starts is a good indicator of soundness and ability. A horse described as having "14 wins 2 to 7, $115,320" and a horse that had "4 wins at 2 and 3, $115,320" indicates one horse that competed at a very low level, but was probably pretty sound and another that was of much higher quality, but not around very long. One other item usually edited out are the unraced foals or the foals that started and were not winners. Once again, the companies listed in the additional resources can provide you with unedited pedigrees and companion supplement books covering every horse in the catalog that show some of these details that have been edited out. You can also purchase these reports by the individual horse through either of the online data services.
Examples of additional information provided include: sale prices of other members of the family, whether the subject horse has ever sold at public auction, breeding nicks, etc. This additional information can help you determine the actual quality of the family as well as the amount you can expect the subject horse to sell for.
As you can see, there is much to learn about pedigrees. I have only scratched the surface here to get you off to a good start. Ask your bloodstock consultant or trainer to help you with more in-depth information on pedigrees and an actual inspection of the individual horse for correct conformation, which is the next step in purchasing your horse.
*a good broodmare sire is one whose daughters have produced a large number of quality runners.

Of all the races run in North America each year, only about 3% are graded stakes races which offer the highest purses. Winning those stakes races is the dream of every owner because that is, frankly, where the money and notoriety are found. In order to distinguish the quality of the different stakes from each other so that you can compare "apples to apples," a system was devised to grade the races across the country and around the world by the quality of horses that compete in them each year. The grades of each race are reviewed annually and can be raised or lowered from year to year depending on the quality of horses that have recently competed. The "G" stands for "Graded" in North America and "Group" elsewhere. This system of grading races was only begun in 1974, so older horses that appear in the 3rd dam or further in a pedigree may have won some very important races of their day, but no grading symbols appear. Another recent addition was adding the track code and purse paid to the horse after the name of the stake.
[G1] The top races run each year throughout the world.
[G2] The next tier of graded/group races.
[G3] The lowest tier of graded/group races.
Fourth place finishes in graded races in Part I countries 1985 through 1988 are recognized as black-type placed. Beginning in 1989, only 4th placed finishers in Grade 1 races in Part I countries are recognized as black-type placed. Beginning in 1990, 4th placed finishers are not recognized as black-type placed in any race.
[L] North American stakes races with a minimum purse value of $75,000 available to all starters that close 72 hours in advance and has no restrictions receive Listed status. May be reviewed for possible [G3] status in the future or has been downgraded from [G3].
[R] Races that have restrictions other than age or sex. For example: horses that have not earned first prize money of a certain amount since a certain date; or horses that passed through a particular sale.
[LR] Listed Races with Restrictions ($50,000 added & up).
[S] Races restricted to horses bred in a particular state.
[O] Other Races ($15,000 added – $49,999 added 1985 – 1988) ($20,000 added – $49,999 added 1989), ($25,000 added – $49,000 added or $35,000 guaranteed 1990) – indicated by "O" in 1985 and 1986 only.
[OR] Other Races with Restrictions ($15,000 added – $49,999 added 1985 – 1988 ($20,000 added – $49,999 added 1989), ($25,000 added – $49,999 added or $35,000 guaranteed 1990) – indicated by "OR" in 1985 and 1986; from 1987 – 1990 carried with "R" only.
[Q] Qualified Races – non-restricted allowance or handicap races in 1985 (only) that have a purse of $30,000 or more – indicated by "Q".
[N] A stakes race that does not qualify for "black type" because the purse level is too low. Levels are as follows ($14,999 added or less 1985 – 1988) ($19,999 added or less 1989), ($24,999 added to 1990) and currently $50,000 added – races are listed for informational purposes as white-type races – indicated by "N" or "NR" (if restricted) in 1985 and 1986 only; from 1987 – 1990 carried with "R" only.